Had my nephew, Justin's, son Cole over for a little while last week. He's such a sweetheart!
On Thursday evening I went to the Den @ Christ Chapel for an improv group called "Curtis Needs a Ride". One of the members is the son of a friend of mine, and they're making a television pilot by taping their shows from various locations over the next several days, culminating at the wedding of said member next Friday night in Missouri. The mind boggles - at least mine does - at the thought of an improv group containing the groom being filmed at the occasion of his marriage. Surely the wedding itself will be off-limits, and it'll be at the rehearsal dinner where any film-worthy activity will take place? Surely? I need to ask Kathy (the mother of the groom) about that.
I wish I'd taken photos (with my cell phone's camera) of the most hilarious segment of their performance, which was the puppet bit, wherein a couple of audience members went up and posed Austin (the one with the beard, and is the groom of whom I spoke) and Grayson (dark haired guy in the bottom photo), so the latter two had to perform so as to make sense of the poses. I laughed so hard I was in pain, literally!
It's incredibly difficult to believe, but it's Concert in the Garden time once more. The series of concerts held by the Fort Worth Symphony in the Botanic Gardens began last night, and run through July 5. Where on earth does the time go? To us, once the CitG closes, it feels as if summer's half gone, as it'll be back to school time. Next thing one knows school will have begun (keep in mind Dmitry's not out until next Friday), the holidays will be upon us, and it'll be 2009 before we know what happened. They're nothing special, but here are the traditional fireworks photos, taken from my front porch:
This morning I received this extraordinary picture from Alex, taken by someone on a helicopter; it's the Blue Ridge with Mount Fuji. Marvelously balanced photo! It ought to be the Official Photo of the Blue Ridge, at least as long as it's based in Japan: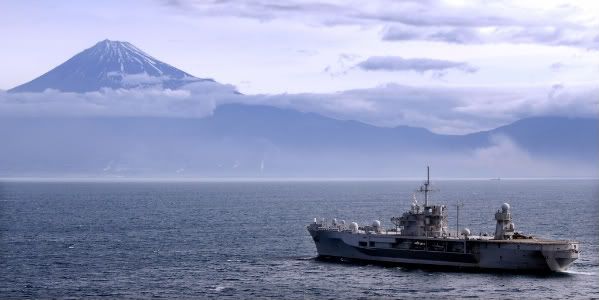 Isn't that gorgeous? I love it.
The weekend's shaping up to be a bit busier than is usual, as tonight I'll be helping with a wedding reception at the church, then tomorrow afternoon is Dmitry's friend, Elveera's, high school graduation party, followed by the graduation ceremony tomorrow evening at the Fort Worth Convention Center.
It's just barely possible I might take a photo or two.